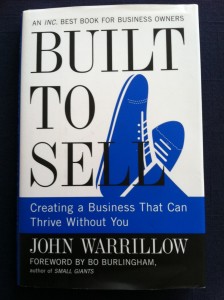 If you are like most business owners, you started your business so that you could have more freedom. You thought you would be able to work your own schedule. You probably also thought that you would have control over your finances…making more money than working for someone else and thus able to plan for your future. You took care planning what your business would look like, including the type of work you would do, how you would get paid for your work and your staffing requirements. What typically happens after you open the doors for business is that the new business isn't coming in as quick as you had planned for. You need money to pay overhead expenses and this leads to the dreaded 'AFAB' method of revenue…you will do 'Anything For A Buck.'

In a short period of time, you have many sources of revenue. This causes you to have specialized staff to assist you get the work done. More importantly, you (as the owner) are likely VERY involved in the process of getting the work of your small business completed and out the door. Collections may be poor because you haven't developed good systems, which cause you even more stress as you try to make your payments each month. There are days that you would just like to sell your business and do something different. However, due to your daily involvement, a potential buyer could say that you have a business that runs solely around you…and if you are gone, so is your business. This leaves your small business virtually worthless.
I read recently is "Built To Sell – Creating a Business That Can Thrive Without You", by John Warrillow. This is a great book for any small business owner, whether you are trying to sell your business or not. If you follow the tips in the book, you will have a small business which runs off of systems. It will also allow you the freedom you desired when you first started your small business.
Some of the tips I took from the book are:
Don't generalize, specialize. You need to focus on doing one thing well and hiring the right people to assist. The quality of your work will improve and you will stand out of your competitors.
Say "No" to projects. Prove to yourself and your team that you are serious about your specialization. As you tell people no, you will begin to receive more referrals for the special work you do.
Take some time to figure out sales closing rate, and work backwards. You need to determine how many prospects you need to have in your pipeline.
Avoid the cash drain. Once you've standardized your service, either charge up front or use progress billing. This will create a positive cash flow situation for your business.